What helps displaced children from Ukraine enrol in EU schools?
The EU Education Solidarity Group for Ukraine met recently to discuss how to increase school attendance for displaced learners from Ukraine across the EU.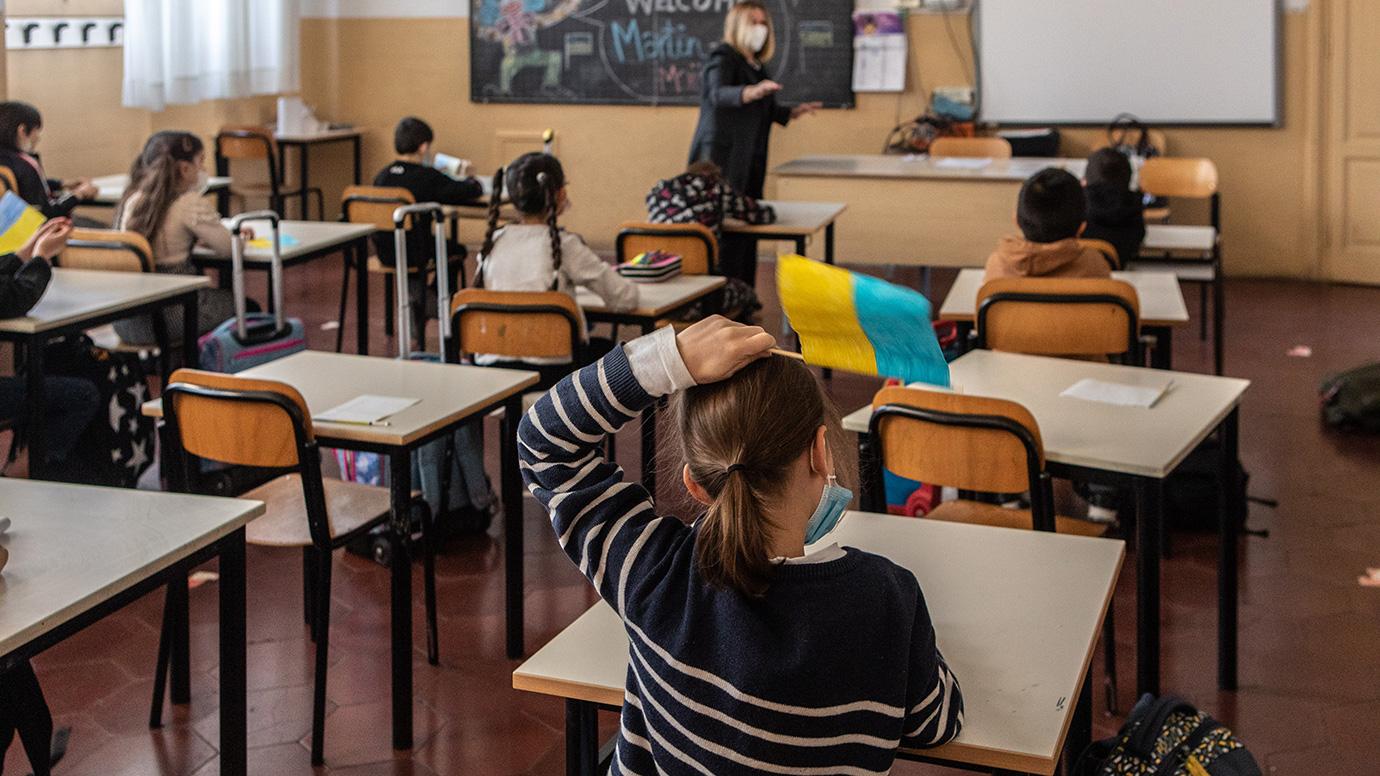 State of play
At the beginning of the school year 2022/2023, about half a million Ukrainian children were enrolled in education systems in the EU, with varying rates and very diverse situations across Member States.
According to data from autumn 2022, the highest enrolment rates were in countries having compulsory school attendance, while rates vary in Member States with no such obligation.
Several Member States also note lower enrolment rates for children in secondary education and close to the end of compulsory schooling.
Main obstacles
Observed obstacles to enrolment include
frequent cross-border movements
capacity issues
language barriers
teacher shortages
uncertainty about the recognition of study periods abroad
preferences of families to keep ties with Ukraine, or their intentions to return home
lack of information or misinformation on education systems in host countries
difficulties in monitoring dropouts during the school year
Measures that work
Member States have taken a number of effective measures to enhance the enrolment rates of displaced children from Ukraine.
Providing Ukrainian support teachers and textbooks
In Lublin, Poland, successful factors to enhance enrolment include for instance
employing Ukrainian support teachers in schools
providing Ukrainian textbooks in schools and libraries
Engaging with parents
In Czechia, around 70 000 displaced children from Ukraine still do not attend school, despite an obligation in place. Schools try and engage with parents to increase enrolment rates.
The META Association, a Czech NGO specialised in supporting pedagogical staff in their work with migrant learners
is engaging Ukrainian pedagogical staff
offers information meetings with Ukrainian parents
has set up a website providing information for parents seeking to enrol their children in a Czech school
Intention surveys held among refugees from Ukraine by UNHCR indicate that while Ukrainian refugee respondents do not see education as a main reason for choosing to stay in a host country or return to Ukraine, they recognise it as one of their main urgent needs.
Learning about and addressing Ukrainian parents' expectations and intentions is therefore necessary to ensure they will enrol their children in host country school systems.
Using available online resources
Schools and education authorities in Member States can benefit from online resources provided by Ukrainian authorities.
The Ukrainian Education in Emergency website provides information on the Ukrainian education system and national schools curriculums and aims to help Ukrainian children adapt to new schools and curriculums abroad.
Drawing on lessons learned in previous displacements
Some countries can draw on solutions developed when working with migrant children in the previous years.
For instance, the Valencian Community put in place a reception protocol that has helped minimise transition shock for Ukrainian students in the Spanish school system.
The protocol
assigns a peer student to all newcomers
makes efforts to connect with families
provides immersion courses in Spanish for both students and parents
facilitates a welcoming and inclusive climate in schools
Putting outreach strategies in place
Effective outreach strategies can also lead to increased enrolment.
The Swedish National Agency of Education set up two social media campaigns that helped increase the proportion of displaced children from Ukraine enrolling in Swedish schools.
Working together
In line with the European Commission's practical manual "Supporting the inclusion of displaced children from Ukraine in education: considerations, key principles and practices for the school year 2022-2023" every displaced child from Ukraine in the EU should have a place in an EU host country school. Attending school will also support their social and emotional wellbeing.
Providing parents with clear and coherent information about the national school systems in Europe is important.
Working together to share good practices and find collective solutions (such as the mutual recognition of learning outcomes in Ukraine and host countries) will benefit displaced learners from Ukraine.
Background
The EU Education Solidarity Group for Ukraine aims to identify the needs of Ukrainian children and to support Member States who host them, including peer learning and policy guidance.
The obstacles and best practices described above are the outcome of a meeting of its working group on schools on 7 December 2022.