eTwinning community of schools reaches 1 million registered users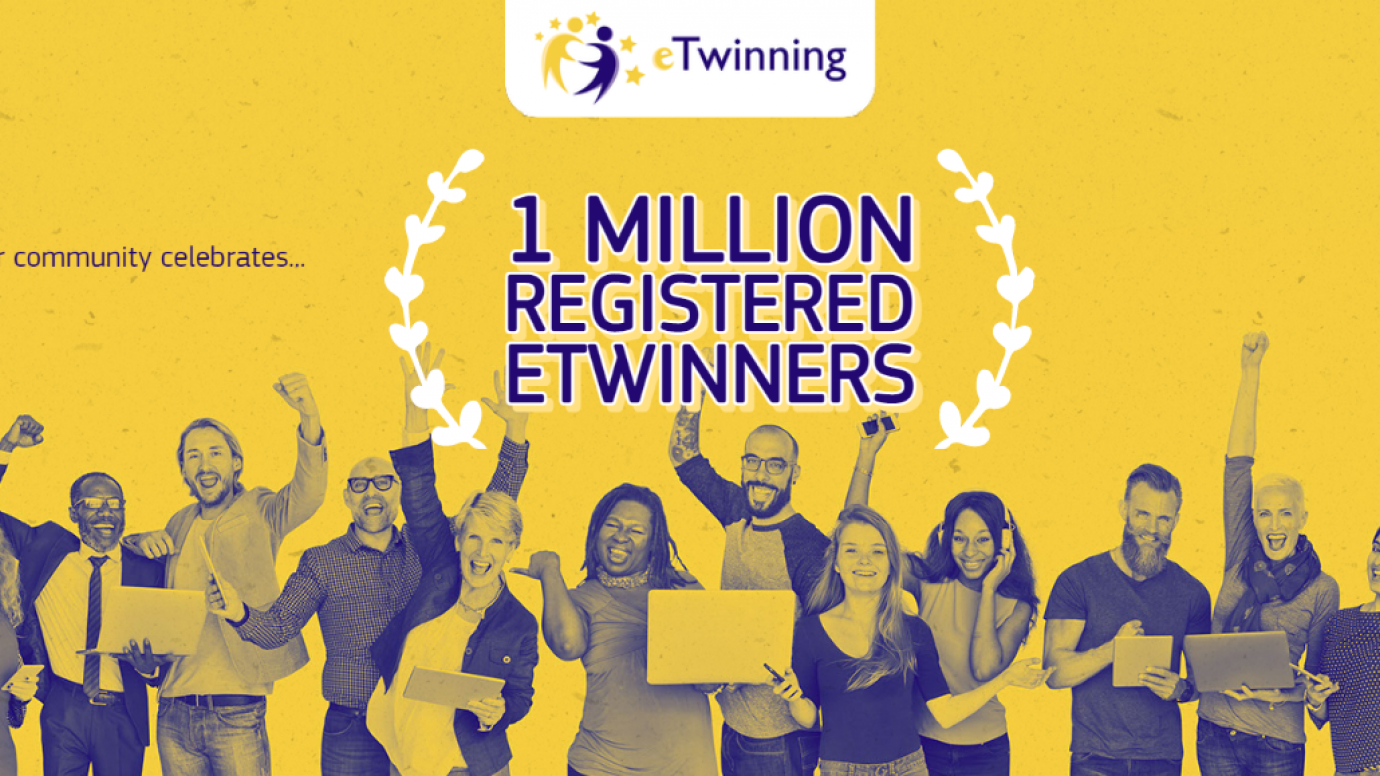 Mariya Gabriel, European Commissioner for Innovation, Research, Culture, Education and Youth, commented
This is a fantastic achievement, and it demonstrates how eTwinning is a great European success story. eTwinning is founded on values that unite as all: European cooperation, inclusion, and access to quality education for all.
eTwinners, we are 1 million! video
Thank you for making eTwinning a European success story.
Congratulations eTwinning for reaching the milestone of 1 million registered in Europe and beyond!
What is the eTwinning community?
Since its launch 2005, eTwinning has provided an online collaboration platform for school staff and educators working in a school in the involved Erasmus+ programme countries. 
eTwinning participants from more than 226,000 schools have created more than 130,000 projects together.
Who can participate?
The eTwinning community is open to school staff employed at all levels of national education systems –  from early childhood education and care, to initial vocational education and training and teacher educators in initial teacher education institutes.
Participants must register and be vetted to access to the internal parts of the platform, where they can create projects, network and take part in professional development opportunities. 
Further eTwinning opportunities
Professional development 
eTwinning offers a range of online professional development opportunities for all members of the community, for instance webinars, online courses, conferences and workshops. 
Peer learning is another important community element contributing to professional development.
eTwinning awards
eTwinners can have their work recognised. The eTwinning quality label is granted to teachers working on excellent eTwinning projects, both at the national and European levels. 
Projects that have received the European Quality Label are eligible to apply for the eTwinning European Prizes, the highest accolade recognising teachers and students for outstanding work through the eTwinning community.
'eTwinning Schools' are best practice examples of how entire schools can benefit from eTwinning. They are active in promoting the eTwinning values and pedagogy, are a point of reference for their local community and represent a model for other schools.
Coming up in 2022
In 2022, the European Commission's School Education Gateway and eTwinning platforms will merge into the European School Education Platform.
The new platform will streamline user journeys and become the single home for the European school education community. 
Register and become part of the community
All teachers and educators working in a school in an involved Erasmus+ programme country or neighbourhood country can become a part the community. 
If you have not registered yet, visit eTwinning and discover what it has to offer!
Follow eTwinning on Twitter, Facebook and YouTube for the latest updates.